CDN FIRM SEEKS BUYER FOR US ASSETS
Producing Properties
All Standard Disclaimers Apply & Seller Rights Retained
---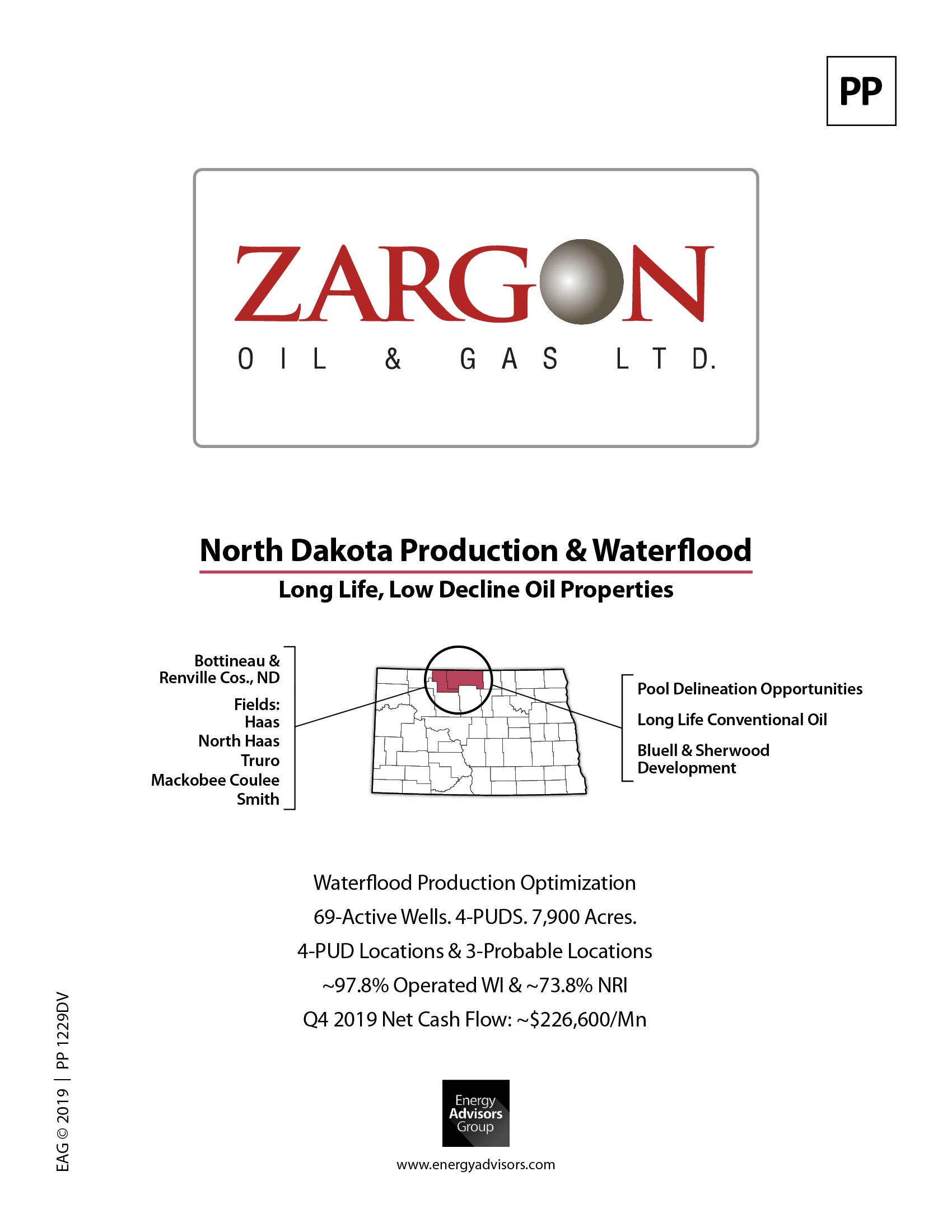 NORTH DAKOTA WATERFLOODS
82-Active Wells. 4-PUDS. 7,900 Acres.
BOTTINEAU & RENVILLE CO., ND
IMMEDIATE INFILL DRILLING
Waterflood Production Optimization
Bluell & Sherwood Development
3-D PROPRIETARY SEISMIC COVERAGE
Pool Delineation Opportunities
~97.5% Operated WI & ~74.5% NRI
Gross Production (Jun-19): 376 BOPD
Long Life Conventional Oil Production
Shallow Decline w/ 4% Oil Cut Last 3-Yrs
Operating Costs Avg ~$155,000/Mn
Latest Net Cash Flow: $220,809/Mn
SELLER ASKING 4 YEARS CASH FLOW
INFRASTRUCTURE & SWD-IN-PLACE
PP 1229DV
Summary
Energy Advisors is marketing Zargon's North Dakota assets as part of a larger corporate reorganization.

Zargon Oil & Gas Ltd. ("Zargon") (Calgary) is also working with the Advisory and Capital Markets division of Macquarie Capital Markets Canada Ltd. as financial advisor to assist in seeking outcomes that will maximize value for the (whole) Company and its stakeholders. Outcomes or options may include a corporate merger, sale, recapitalization or reorganization along with consideration for the firm's North Dakota asset which Energy Advisors is marketing herein.

MOTIVATED SELLER.

Energy Advisors Is Marketing US Assets---
The North Dakota Production and Waterflood properties include the following attributes.

-- Immediate and Improving Cash Flows
-- High Operated WI Ownership; Concentrated Asset Base;
-- Large OOIP. Bypass Pay Opportunities
-- Established Waterflood - Unitized Production
-- Long Life Reserves - 3rd Party Engineering Evaluation
-- 3-D Proprietary Seismic Coverage
-- 4-PUD Locations & 3-Probable Locations
-- Water Disposal & Infrastructure in place
-- Oil Focused Asset Base, 28° API Crude
-- Upside & Development Potential - Properties that exhibit flat production

As discussed above, the U.S. North Dakota assets include high operated working interest across #5 units:

-- Haas Madison Unit: (99% Operated WI; 75.1% NRI) 67 Total Wells. 27.5 API Oil
-- North Haas: ~60.74% & 45.7% NRI (Non-Unit)
-- Smith Unit: (74.75% WI; 60.7% NRI; 1 Well;)
-- Truro Madison: 97.6% WI; 73.3% NRI; 23 Wells. 26.9 API; Expand Waterflood
-- Mackobee Coulee: 100% Operated WI; 75.3% NRI; 17 Wells; 27.4 Degree API

Other North Dakota Attributes--
-- Bottineau & Renville Cos., ND
-- 8,253 gross / 7,905 net acres of Zargon, 100% operated land in North Dakota with high working interest ownership;

Strong Company Volumes:
-- 390 boe/d gross production from Williston Basin; Madison reservoir units

U.S. Well Counts---
-- 111 total Zargon Oil (ND) Inc. licensed wells including 82 active wells (61 producing, 17 water injection, 3 water source and 1 salt water disposal);

Investment Opportunity---
-- Opportunity to increase recovery factor through optimization of waterflood and undeveloped land;
-- Unitized oil production with infill drilling potential;
-- 7 proved and probable locations at Mackobee Coulee, Truro and Haas;
-- Potential waterflood expansion project at Truro provides opportunity to ramp up production with minimal associated costs
-- Drill ready locations at Truro and Mackobee
-- Oil handling infrastructure and water disposal with capacity for increased production levels

U.S. Deal Structure
As described above, Zargon will consider the sale of the U.S. assets or the U.S. subsidiary in proportion to the total review of options available for the total company.

U.S. Acreage---
U.S. Long Life, Low Decline Conventional Oil Properties
Properties consist of ~8,293-gross acres (~7,905-net) both unitized and non-unitized production. The U.S. Acreage is a mix of HBP/HBU & primary term leaseholds.

In the U.S., there are 58-active producers, 17-active injectors, 1-SWD & 10-Shut-Ins & 5-TA'd wells across 5-fields (Haas & N. Haas, Truro, Mackobee Coulee & Smith).

To date, the U.S. assets have produced approximately 16 MMBO.

Significant U.S. Oil in Place---
Opportunity to increase oil recovery through infill drilling at each property by increasing drilling density (no downspacing regulations). Waterflood expansion/rework opportunities through further optimization and rebalancing work to augment existing flat production life.

U.S. Geology---
North Dakota Williston Basin geology is directly analogous to the offsetting Southeast Saskatchewan Williston Basin geology

U.S. Subsidiary---
During June 2019, gross production for the properties was 376 BOPD. The latest complete month generated a net cash flow of $220,809/Mn receiving a sales price of $43.64/bbl. It bears noting that in 2018 the assets cash flowed $300,000-$400,000/Mn on higher crude prices.

Canadian Assets---
Changing gears here are some thoughts on Zargon's Canadian (Alberta) assets as represented by Macquarie.

Canadian Cash Flow--
The Canadian assets generated $42.95/boe in 2018; paid $4.34 boe in royalty and experienced $28.86/boe in operating costs netback $9.75/boe in Cdn dollars.

Canadian Asset Attributes---
-- 206,074 gross / 117,685 net acres of total Zargon land in Alberta (Crown and Freehold)
-- 1,397 boe/d of low decline (12%) production primarily from the Cretaceous Mannville Group
-- 60% of production concentrated in Little Bow, Taber South and Retlaw assets in SE Alberta
-- 692 total Zargon wells in Alberta including 189 producing and 261 suspended wells (AB LMR 1.12)
-- The AER's voluntary Area Based Closure liability program requires companies to spend 4% of deemed inactive liability per year
-- For 2019, Zargon is required to spend $1.2 mm, which compares with Zargon's 2019E budgeted spend of $2.0 - $2.5 mm
-- Production and injection facilities associated with the ASP flood at Little Bow
-- 8 proved and probable locations at Taber and Bellshill Lake
-- Little Bow provides material upside opportunity through:
-- Non-ASP waterflood reactivation and expansion projects along with well reactivations
-- ASP project well reactivations

Canadian Fields Include
-- Little Bow (Upper Mannville Pools); 21-32 Degree API;
-- Retlaw (Manville Pools); 17-24 Degree API;
-- Taber South (Mannville Pool) 19-26 Degree API;

Updates
Macquarie Opportunity Overview
Macquarie Confidentiality Agreement
2017-2018 Fluid Level Summary added to 05. Operations
Facility Inspection 2018 Reports added to 05. Operations
Plains & Trafigura WI Oil Sales Marketing Statements added to 05. Operations

TO LEARN MORE
Energy Advisors Group
Mr. Steve Henrich
Director
1580, 727 - 7th Avenue SW
Calgary, AB T2P 0Z3
CANADA
Direct: 403-294-1906 Cell: 403-874-7801
Email: [email protected]

NORTH DAKOTA WATERFLOODS
82-Active Wells. 4-PUDS. 7,900 Acres.
BOTTINEAU & RENVILLE CO., ND
IMMEDIATE INFILL DRILLING
Waterflood Production Optimization
Bluell & Sherwood Development
3-D PROPRIETARY SEISMIC COVERAGE
Pool Delineation Opportunities
~97.5% Operated WI & ~74.5% NRI
Gross Production (Jun-19): 376 BOPD
Long Life Conventional Oil Production
Shallow Decline w/ 4% Oil Cut Last 3-Yrs
Operating Costs Avg ~$155,000/Mn
Latest Net Cash Flow: $220,809/Mn
SELLER ASKING 4 YEARS CASH FLOW
INFRASTRUCTURE & SWD-IN-PLACE
PP 1229DV
Summary
Energy Advisors is marketing Zargon's North Dakota assets as part of a larger corporate reorganization.

Zargon Oil & Gas Ltd. ("Zargon") (Calgary) is also working with the Advisory and Capital Markets division of Macquarie Capital Markets Canada Ltd. as financial advisor to assist in seeking outcomes that will maximize value for the (whole) Company and its stakeholders. Outcomes or options may include a corporate merger, sale, recapitalization or reorganization along with consideration for the firm's North Dakota asset which Energy Advisors is marketing herein.

MOTIVATED SELLER.

Energy Advisors Is Marketing US Assets---
The North Dakota Production and Waterflood properties include the following attributes.

-- Immediate and Improving Cash Flows
-- High Operated WI Ownership; Concentrated Asset Base;
-- Large OOIP. Bypass Pay Opportunities
-- Established Waterflood - Unitized Production
-- Long Life Reserves - 3rd Party Engineering Evaluation
-- 3-D Proprietary Seismic Coverage
-- 4-PUD Locations & 3-Probable Locations
-- Water Disposal & Infrastructure in place
-- Oil Focused Asset Base, 28° API Crude
-- Upside & Development Potential - Properties that exhibit flat production

As discussed above, the U.S. North Dakota assets include high operated working interest across #5 units:

-- Haas Madison Unit: (99% Operated WI; 75.1% NRI) 67 Total Wells. 27.5 API Oil
-- North Haas: ~60.74% & 45.7% NRI (Non-Unit)
-- Smith Unit: (74.75% WI; 60.7% NRI; 1 Well;)
-- Truro Madison: 97.6% WI; 73.3% NRI; 23 Wells. 26.9 API; Expand Waterflood
-- Mackobee Coulee: 100% Operated WI; 75.3% NRI; 17 Wells; 27.4 Degree API

Other North Dakota Attributes--
-- Bottineau & Renville Cos., ND
-- 8,253 gross / 7,905 net acres of Zargon, 100% operated land in North Dakota with high working interest ownership;

Strong Company Volumes:
-- 390 boe/d gross production from Williston Basin; Madison reservoir units

U.S. Well Counts---
-- 111 total Zargon Oil (ND) Inc. licensed wells including 82 active wells (61 producing, 17 water injection, 3 water source and 1 salt water disposal);

Investment Opportunity---
-- Opportunity to increase recovery factor through optimization of waterflood and undeveloped land;
-- Unitized oil production with infill drilling potential;
-- 7 proved and probable locations at Mackobee Coulee, Truro and Haas;
-- Potential waterflood expansion project at Truro provides opportunity to ramp up production with minimal associated costs
-- Drill ready locations at Truro and Mackobee
-- Oil handling infrastructure and water disposal with capacity for increased production levels

U.S. Deal Structure
As described above, Zargon will consider the sale of the U.S. assets or the U.S. subsidiary in proportion to the total review of options available for the total company.

U.S. Acreage---
U.S. Long Life, Low Decline Conventional Oil Properties
Properties consist of ~8,293-gross acres (~7,905-net) both unitized and non-unitized production. The U.S. Acreage is a mix of HBP/HBU & primary term leaseholds.

In the U.S., there are 58-active producers, 17-active injectors, 1-SWD & 10-Shut-Ins & 5-TA'd wells across 5-fields (Haas & N. Haas, Truro, Mackobee Coulee & Smith).

To date, the U.S. assets have produced approximately 16 MMBO.

Significant U.S. Oil in Place---
Opportunity to increase oil recovery through infill drilling at each property by increasing drilling density (no downspacing regulations). Waterflood expansion/rework opportunities through further optimization and rebalancing work to augment existing flat production life.

U.S. Geology---
North Dakota Williston Basin geology is directly analogous to the offsetting Southeast Saskatchewan Williston Basin geology

U.S. Subsidiary---
During June 2019, gross production for the properties was 376 BOPD. The latest complete month generated a net cash flow of $220,809/Mn receiving a sales price of $43.64/bbl. It bears noting that in 2018 the assets cash flowed $300,000-$400,000/Mn on higher crude prices.

Canadian Assets---
Changing gears here are some thoughts on Zargon's Canadian (Alberta) assets as represented by Macquarie.

Canadian Cash Flow--
The Canadian assets generated $42.95/boe in 2018; paid $4.34 boe in royalty and experienced $28.86/boe in operating costs netback $9.75/boe in Cdn dollars.

Canadian Asset Attributes---
-- 206,074 gross / 117,685 net acres of total Zargon land in Alberta (Crown and Freehold)
-- 1,397 boe/d of low decline (12%) production primarily from the Cretaceous Mannville Group
-- 60% of production concentrated in Little Bow, Taber South and Retlaw assets in SE Alberta
-- 692 total Zargon wells in Alberta including 189 producing and 261 suspended wells (AB LMR 1.12)
-- The AER's voluntary Area Based Closure liability program requires companies to spend 4% of deemed inactive liability per year
-- For 2019, Zargon is required to spend $1.2 mm, which compares with Zargon's 2019E budgeted spend of $2.0 - $2.5 mm
-- Production and injection facilities associated with the ASP flood at Little Bow
-- 8 proved and probable locations at Taber and Bellshill Lake
-- Little Bow provides material upside opportunity through:
-- Non-ASP waterflood reactivation and expansion projects along with well reactivations
-- ASP project well reactivations

Canadian Fields Include
-- Little Bow (Upper Mannville Pools); 21-32 Degree API;
-- Retlaw (Manville Pools); 17-24 Degree API;
-- Taber South (Mannville Pool) 19-26 Degree API;

Updates
Macquarie Opportunity Overview
Macquarie Confidentiality Agreement
2017-2018 Fluid Level Summary added to 05. Operations
Facility Inspection 2018 Reports added to 05. Operations
Plains & Trafigura WI Oil Sales Marketing Statements added to 05. Operations

TO LEARN MORE
Energy Advisors Group
Mr. Steve Henrich
Director
1580, 727 - 7th Avenue SW
Calgary, AB T2P 0Z3
CANADA
Direct: 403-294-1906 Cell: 403-874-7801
Email: [email protected]