NORTH LOUISIANA MINERALS
Minerals For Sale
All Standard Disclaimers Apply & Seller Rights Retained
---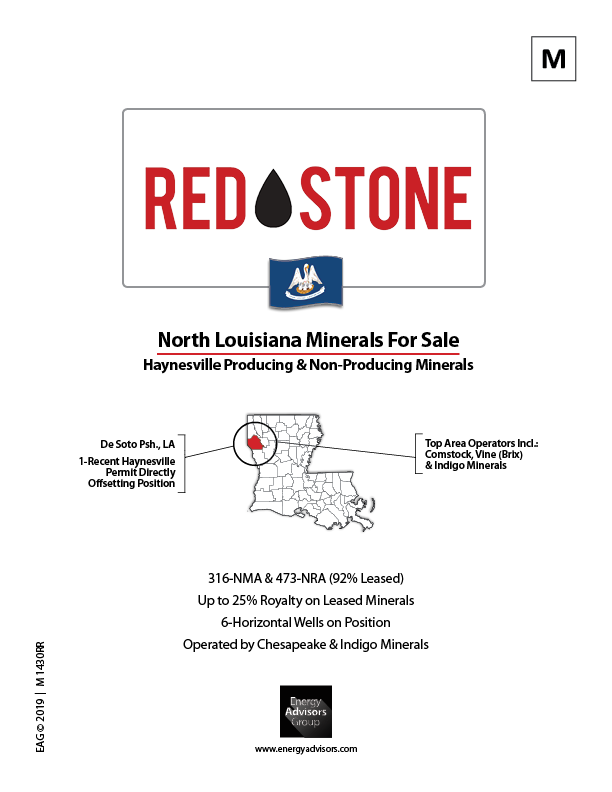 DE SOTO PH., LA MINERALS FOR SALE
316-Net Mineral Acres (444/NRA)
RECENT NEW DRILL PERMIT
HAYNESVILLE DEVELOPMENT FAIRWAY
ALL DEPTHS. ALL RIGHTS.
---Section 19-11N-15W
Most Minerals Leased at 75% NRI
6-Total Wells (5-Producing) on Position
Minimal Cash Flow From Operator 1
Seller Is Motivated - Easy Deal To Evaluate
SELLER HAS SET AN ASK PRICE
M 4130RR
Deal Summary
Energy Advisors Group has been retained by Red Stone Resources to market their North Louisiana mineral position located in De Soto Parish, LA. The package consists of 316-Net Mineral Acres (92% Leased) with All Depths and All Rights in 11N-13W, 11N-15W, 11N-16W, 12N-13W and 15N-14W.

Royalties on leased minerals range from 18.75%-25.00% with additional potential to receive lease bonuses on 25 unleased acres.

Current Offset Activity
Significant permitting activity has been taking place in the area in 2019. Brix Operating/Vine was granted a new permit for the Oberwortmann 19H ON Red Stone's position in 19-11N-15W.

There are 6-Total wells on the position (5-Producing & 1-Recent Shut in from late 2018) and 1-New Permit granted to Brix Operating.

---- All Minerals Include ALL Rights to ALL Depths

TO LEARN MORE CONTACT:
Energy Advisors Group
Mr. Richard Martin
Director – Special Projects & Execution
14875 Landmark Blvd Ste 125
Dallas, TX 75254
---Email: [email protected]

DE SOTO PH., LA MINERALS FOR SALE
316-Net Mineral Acres (444/NRA)
RECENT NEW DRILL PERMIT
HAYNESVILLE DEVELOPMENT FAIRWAY
ALL DEPTHS. ALL RIGHTS.
---Section 19-11N-15W
Most Minerals Leased at 75% NRI
6-Total Wells (5-Producing) on Position
Minimal Cash Flow From Operator 1
Seller Is Motivated - Easy Deal To Evaluate
SELLER HAS SET AN ASK PRICE
M 4130RR
Deal Summary
Energy Advisors Group has been retained by Red Stone Resources to market their North Louisiana mineral position located in De Soto Parish, LA. The package consists of 316-Net Mineral Acres (92% Leased) with All Depths and All Rights in 11N-13W, 11N-15W, 11N-16W, 12N-13W and 15N-14W.

Royalties on leased minerals range from 18.75%-25.00% with additional potential to receive lease bonuses on 25 unleased acres.

Current Offset Activity
Significant permitting activity has been taking place in the area in 2019. Brix Operating/Vine was granted a new permit for the Oberwortmann 19H ON Red Stone's position in 19-11N-15W.

There are 6-Total wells on the position (5-Producing & 1-Recent Shut in from late 2018) and 1-New Permit granted to Brix Operating.

---- All Minerals Include ALL Rights to ALL Depths

TO LEARN MORE CONTACT:
Energy Advisors Group
Mr. Richard Martin
Director – Special Projects & Execution
14875 Landmark Blvd Ste 125
Dallas, TX 75254
---Email: [email protected]