LOW RISK EASY TO DRILL OIL WELLS
Drilling Prospects
All Standard Disclaimers Apply & Seller Rights Retained
---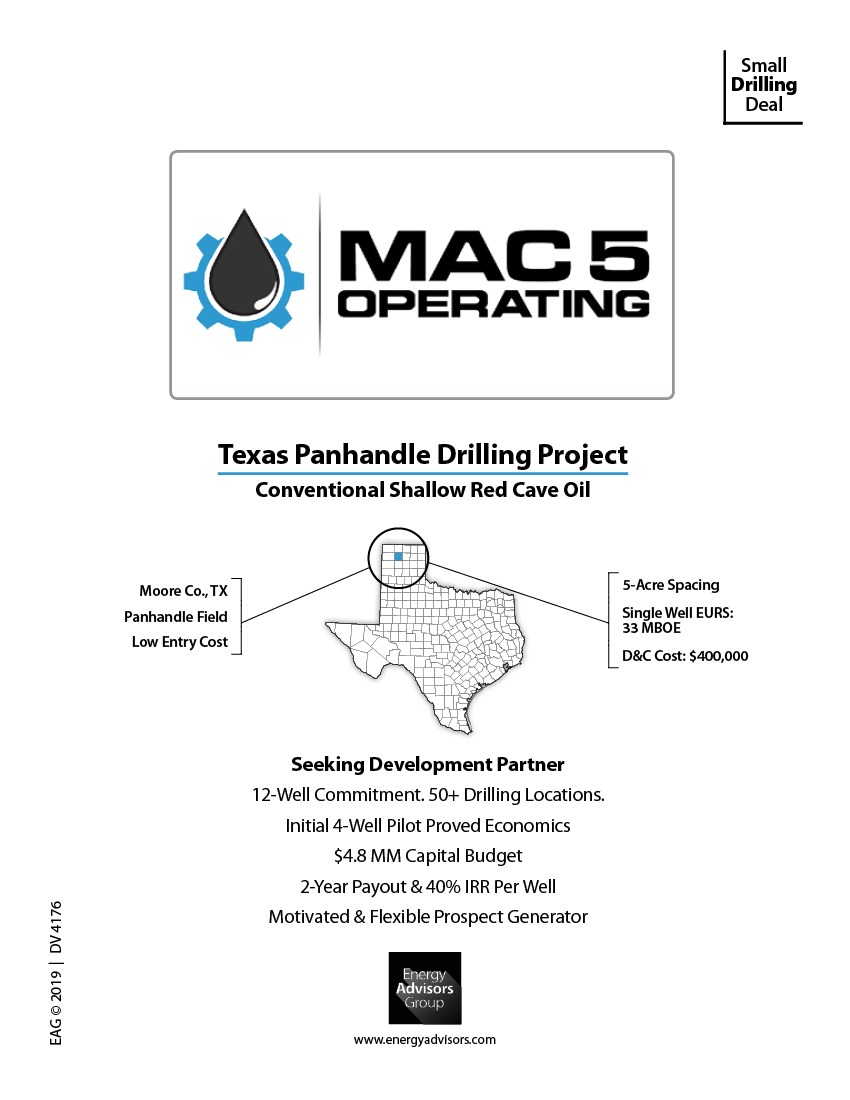 TEXAS PANHANDLE DRILLING PROJECT
CONVENTIONAL SHALLOW RED CAVE OIL
LOW ENTRY-COST PROVEN OIL PLAY
SEEKING DEVELOPMENT PARTNER
-To Drill 12-Well Commitment
NonOperated WI. Operations Negotiable.
Project Payout In Less Than 2.5 Years
Single Well Reserves: 23-33 MBOE
MOTIVATED & FLEXIBLE SELLER
CALL FOR PROSPECT SHOWING
DV 4176
NO C.A. REQUIRED. CONTACT RICH MARTIN FOR FULL DATA ROOM ACCESS

Overview
MAC 5 Operating, LLC has retained Energy Advisors Group to assist in sourcing a development partner to participate in the conventional development of the Shallow Red Cave Oil Project located in the Panhandle Field of Moore County, Texas.

Energy Advisors Group (Dallas)
Mr. Richard Martin
Director – Special Projects & Execution
14875 Landmark Blvd Ste 125
Dallas, TX 75254
---Phone: 214-774-2150 and Fax: 713-600-0138
---Direct: 214-774-2495 Cell: 469-866-9796
-----Email: [email protected]

TEXAS PANHANDLE DRILLING PROJECT
CONVENTIONAL SHALLOW RED CAVE OIL
LOW ENTRY-COST PROVEN OIL PLAY
SEEKING DEVELOPMENT PARTNER
-To Drill 12-Well Commitment
NonOperated WI. Operations Negotiable.
Project Payout In Less Than 2.5 Years
Single Well Reserves: 23-33 MBOE
MOTIVATED & FLEXIBLE SELLER
CALL FOR PROSPECT SHOWING
DV 4176
NO C.A. REQUIRED. CONTACT RICH MARTIN FOR FULL DATA ROOM ACCESS

Overview
MAC 5 Operating, LLC has retained Energy Advisors Group to assist in sourcing a development partner to participate in the conventional development of the Shallow Red Cave Oil Project located in the Panhandle Field of Moore County, Texas.

Energy Advisors Group (Dallas)
Mr. Richard Martin
Director – Special Projects & Execution
14875 Landmark Blvd Ste 125
Dallas, TX 75254
---Phone: 214-774-2150 and Fax: 713-600-0138
---Direct: 214-774-2495 Cell: 469-866-9796
-----Email: [email protected]