OKLAHOMA STACK WI & NEW DRILLING
Producing Properties
All Standard Disclaimers Apply & Seller Rights Retained
---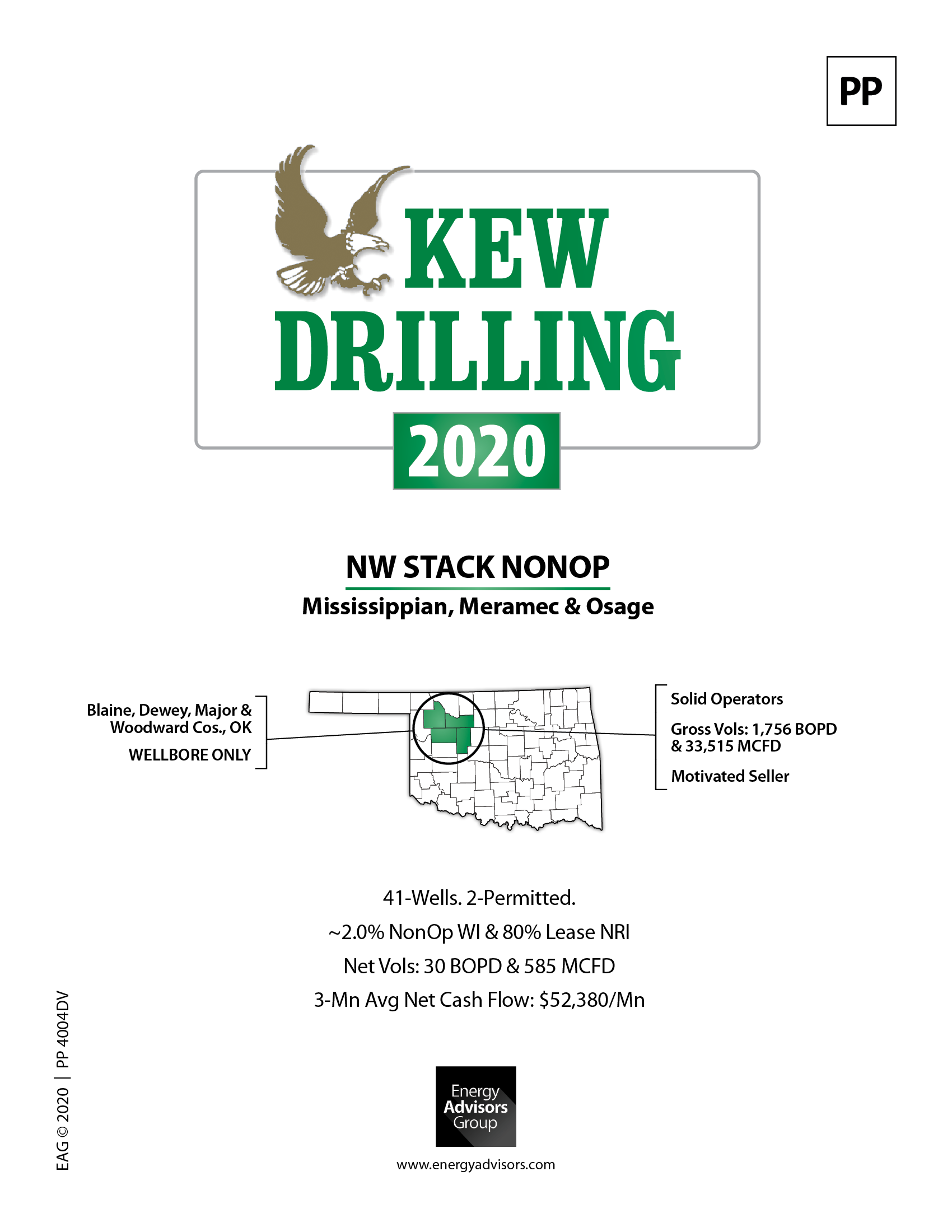 NW STACK NON-OP WI FOR SALE
41-PDP, 2-Inactive, 1-Elected
BLAINE, DEWEY, MAJOR & WOODWARD
MISSISSIPPIAN, MERAMEC & OSAGE
All Depths. All Rights.
37 Sections HBP (640 Net Acres)
~2.1% NonOp WI & 80% Lease NRI
Net Vols: 44 BOPD & 408 MCFD
Gross Vols: 2,146 BOPD & 27,576 MCFD
Net Cash Flow: $117,550 Mn
ONGOING DRILLING OPPORTUNITY
Solid Operators Proposing Wells
CONTACT ENERGY ADVISORS GROUP
PP 4004DV
Summary
KEW Drilling is marketing their non-operated NW STACK Corridor producing properties and non-producing leases located in Blaine, Dewey, Major & Woodward Cos., OK.

The KEW package includes ~640 net acres across 37 sections. The sale package includes an average ~2.1% NonOperated WI and ~1.7% NRI (80% Lease NRI).

The portfolio recent gross volumes of: 2,146 BOPD and 27,576 MCFD (Net Vols: 44 BOPD & 408 MCFD).

The wells are operated by solid operators, including Comanche, Continental, Council Oak (Staghorn), Ovintiv (Encana/Newfield), SandRidge, Staghorn and Tapstone.

NonOperated WI For Sale--
Small Average ~2.1% NonOp WI But Includes High 80% Lease NRI.

The leased area is actively developed with optimized drilling and completion design, resulting in dramatically reduced drilling and completion costs.

TO LEARN MORE
Energy Advisors Group
Ms. Carrie Calahan
Associate
5120 Woodway Dr Ste 10010
Houston, TX 77056
USA
Phone: 713-600-0123 and Fax: 713-600-0138 Direct: 713-600-0137 Cell: 281-250-9159
Email: [email protected]

NW STACK NON-OP WI FOR SALE
41-PDP, 2-Inactive, 1-Elected
BLAINE, DEWEY, MAJOR & WOODWARD
MISSISSIPPIAN, MERAMEC & OSAGE
All Depths. All Rights.
37 Sections HBP (640 Net Acres)
~2.1% NonOp WI & 80% Lease NRI
Net Vols: 44 BOPD & 408 MCFD
Gross Vols: 2,146 BOPD & 27,576 MCFD
Net Cash Flow: $117,550 Mn
ONGOING DRILLING OPPORTUNITY
Solid Operators Proposing Wells
CONTACT ENERGY ADVISORS GROUP
PP 4004DV
Summary
KEW Drilling is marketing their non-operated NW STACK Corridor producing properties and non-producing leases located in Blaine, Dewey, Major & Woodward Cos., OK.

The KEW package includes ~640 net acres across 37 sections. The sale package includes an average ~2.1% NonOperated WI and ~1.7% NRI (80% Lease NRI).

The portfolio recent gross volumes of: 2,146 BOPD and 27,576 MCFD (Net Vols: 44 BOPD & 408 MCFD).

The wells are operated by solid operators, including Comanche, Continental, Council Oak (Staghorn), Ovintiv (Encana/Newfield), SandRidge, Staghorn and Tapstone.

NonOperated WI For Sale--
Small Average ~2.1% NonOp WI But Includes High 80% Lease NRI.

The leased area is actively developed with optimized drilling and completion design, resulting in dramatically reduced drilling and completion costs.

TO LEARN MORE
Energy Advisors Group
Ms. Carrie Calahan
Associate
5120 Woodway Dr Ste 10010
Houston, TX 77056
USA
Phone: 713-600-0123 and Fax: 713-600-0138 Direct: 713-600-0137 Cell: 281-250-9159
Email: [email protected]