LOW RISK EASY TO DRILL OIL WELLS
Drilling Prospects
All Standard Disclaimers Apply & Seller Rights Retained
---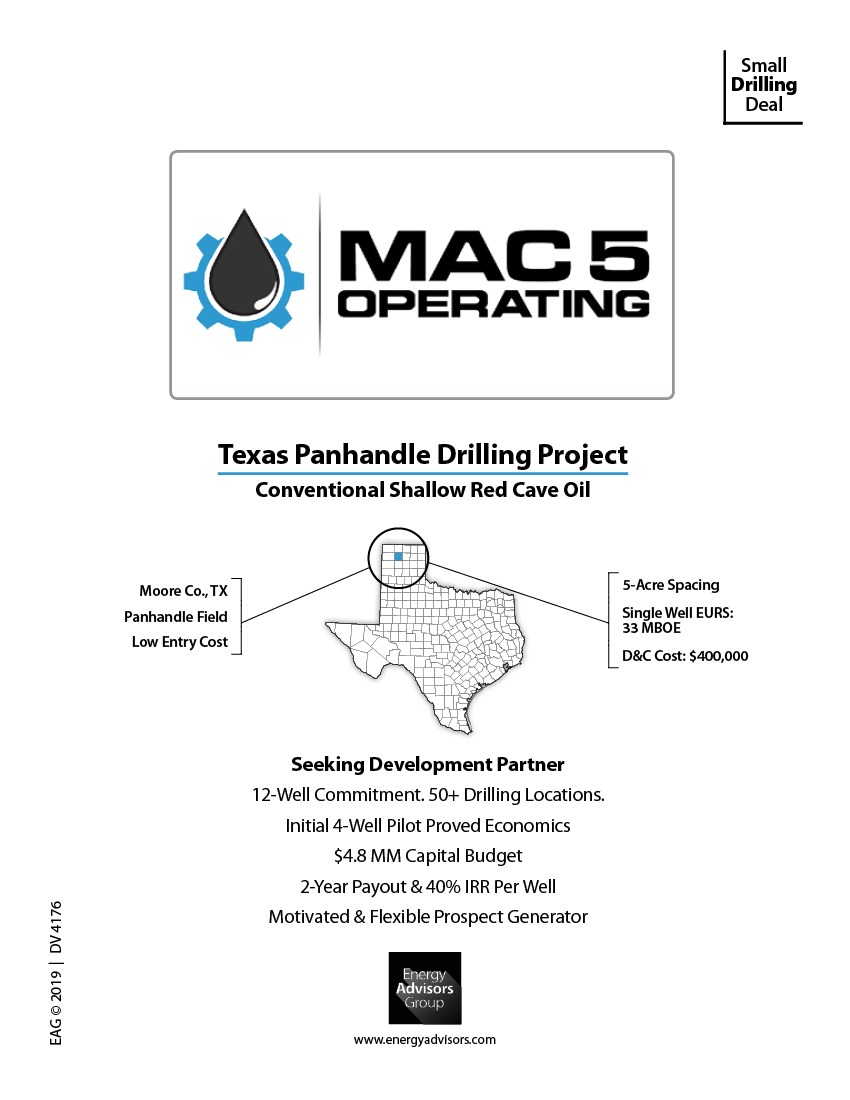 TEXAS PANHANDLE DRILLING PROJECT
CONVENTIONAL SHALLOW RED CAVE OIL
LOW ENTRY-COST PROVEN OIL PLAY
SEEKING DEVELOPMENT PARTNER
-To Drill 12-Well Commitment
NonOperated WI. Operations Negotiable.
Project Payout In Less Than 2.5 Years
Single Well Reserves: 23-33 MBOE
MOTIVATED & FLEXIBLE SELLER
CALL EAG FOR PROSPECT SHOWING
DV 4176
NO C.A. REQUIRED. CONTACT CARRIE CALAHAN or RICH MARTIN FOR FULL DATA ROOM ACCESS

OVERVIEW
MAC 5 Operating, LLC has retained Energy Advisors Group to assist in sourcing a development partner to participate in the conventional development of the Shallow Red Cave Oil Project located in the Panhandle Field of Moore County, Texas.

--- Experienced Operator Seeks Drillco or Development Partner
--- Desire To Drill 4 or even 12-Immediate Vertical Drilling Locations with ~340 MBOE High BTU Reserves;
--- 50+ Total Future Drilling Locations
--- Select 33,000 BOE EUR's Per Well.
--- Favorable IRR's & Project Payouts Under 2.5 Years

ADDITIONAL DISCUSSION----
The Red Cave is the oldest of the major red-bed deposits in the lower Clear Fork group and the lowest member of the Tubb interval, immediately above the "Panhandle Lime".

--- Target Area Features Up To 1,500 BTU Rich Gas;
--- NGLs Can Make Up >60% of Gas Revenue;
--- Gas Revenue (including liquids) can generate >$4.00/Mcf Under Better Gas Prices;
--- Last Fall, 12-Mn Avg. NYMEX Differential: $2.46/Mcf (1.55x); from high BTU natural gas

Recent 4 Well Pilot demands an immediate 12 vertical wells on two HBP leases, Sneed-Thompson and Bivins.
Prospect generator and operator feel we can drill immediate 4 wells to then prove up an eventual 12 well test with a capital provider.

--- 3rd Party Engineering by Lee Keeling & Associates, Inc In Tulsa.
--- Total Phase 1 Reserves: 278 MBO & 361 MMCF;
--- Project could pay out in less than 2.5 Years with certain level oil, gas and NGL pricing;

LOW RISK; PROVEN OIL PLAY---
The operator, Mac 5 also intends to upgrade storage and handling facilities on both leases for $140,000-$150,000 per lease. These facility upgrades include: new tanks, heaters, pipelines, electrical, metering equipment & road improvements.

DEFINED UPSIDE---
Geological Review by KLF Geological Identified 50-75 Drilling Locations with proven reserve potential.

NEW COMPLETION DESIGN IMPROVING WELL PERFORMANCE--
The operator, Mac 5 also wants to point out that their new completion design has consistently outperformed previous type curves with new type curves showing EUR's in excess of 33,000 MBO.

--- To facilitate a transaction, Mac 5 will also consider including a small WI in existing production on both leases to the partnership

Energy Advisors Group (Dallas)
Mr. Richard Martin
Director – Special Projects & Execution
14875 Landmark Blvd Ste 125
Dallas, TX 75254
---Phone: 214-774-2150 and Fax: 713-600-0138
---Direct: 214-774-2495 Cell: 469-866-9796
-----Email: [email protected]

Or Contact Carrie Calahan at 713-600-0123; Email [email protected]

TEXAS PANHANDLE DRILLING PROJECT
CONVENTIONAL SHALLOW RED CAVE OIL
LOW ENTRY-COST PROVEN OIL PLAY
SEEKING DEVELOPMENT PARTNER
-To Drill 12-Well Commitment
NonOperated WI. Operations Negotiable.
Project Payout In Less Than 2.5 Years
Single Well Reserves: 23-33 MBOE
MOTIVATED & FLEXIBLE SELLER
CALL EAG FOR PROSPECT SHOWING
DV 4176
NO C.A. REQUIRED. CONTACT CARRIE CALAHAN or RICH MARTIN FOR FULL DATA ROOM ACCESS

OVERVIEW
MAC 5 Operating, LLC has retained Energy Advisors Group to assist in sourcing a development partner to participate in the conventional development of the Shallow Red Cave Oil Project located in the Panhandle Field of Moore County, Texas.

--- Experienced Operator Seeks Drillco or Development Partner
--- Desire To Drill 4 or even 12-Immediate Vertical Drilling Locations with ~340 MBOE High BTU Reserves;
--- 50+ Total Future Drilling Locations
--- Select 33,000 BOE EUR's Per Well.
--- Favorable IRR's & Project Payouts Under 2.5 Years

ADDITIONAL DISCUSSION----
The Red Cave is the oldest of the major red-bed deposits in the lower Clear Fork group and the lowest member of the Tubb interval, immediately above the "Panhandle Lime".

--- Target Area Features Up To 1,500 BTU Rich Gas;
--- NGLs Can Make Up >60% of Gas Revenue;
--- Gas Revenue (including liquids) can generate >$4.00/Mcf Under Better Gas Prices;
--- Last Fall, 12-Mn Avg. NYMEX Differential: $2.46/Mcf (1.55x); from high BTU natural gas

Recent 4 Well Pilot demands an immediate 12 vertical wells on two HBP leases, Sneed-Thompson and Bivins.
Prospect generator and operator feel we can drill immediate 4 wells to then prove up an eventual 12 well test with a capital provider.

--- 3rd Party Engineering by Lee Keeling & Associates, Inc In Tulsa.
--- Total Phase 1 Reserves: 278 MBO & 361 MMCF;
--- Project could pay out in less than 2.5 Years with certain level oil, gas and NGL pricing;

LOW RISK; PROVEN OIL PLAY---
The operator, Mac 5 also intends to upgrade storage and handling facilities on both leases for $140,000-$150,000 per lease. These facility upgrades include: new tanks, heaters, pipelines, electrical, metering equipment & road improvements.

DEFINED UPSIDE---
Geological Review by KLF Geological Identified 50-75 Drilling Locations with proven reserve potential.

NEW COMPLETION DESIGN IMPROVING WELL PERFORMANCE--
The operator, Mac 5 also wants to point out that their new completion design has consistently outperformed previous type curves with new type curves showing EUR's in excess of 33,000 MBO.

--- To facilitate a transaction, Mac 5 will also consider including a small WI in existing production on both leases to the partnership

Energy Advisors Group (Dallas)
Mr. Richard Martin
Director – Special Projects & Execution
14875 Landmark Blvd Ste 125
Dallas, TX 75254
---Phone: 214-774-2150 and Fax: 713-600-0138
---Direct: 214-774-2495 Cell: 469-866-9796
-----Email: [email protected]

Or Contact Carrie Calahan at 713-600-0123; Email [email protected]